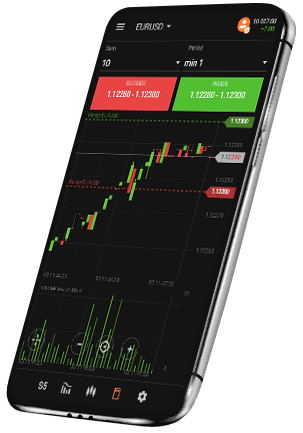 Do not miss trade opportunities on the go ​
Nowadays, smartphones and tablets or any other mobile devices have become more popular among people. In comparison to years ago, the mobile devices have become more powerful and reliable to the point that they even outperform personal computers in some of their processes.
Most of the people prefer to do most of their tasks via their mobile device even if their desktop computer do it better! because It is obviously way more convenient compared to actual computers, they've got no limit on where and when to use and come handy when you are away from your desk at home or office.
Capitalcore Mobile Platform
Supports both screen orientation
whether you prefer to hold your phone horizontally or vertically, the mobile platform has been designed to work seamlessly with both
Cross-Platform design
because of Its web-based design, you do not need to worry about OS compatibility, no download or installation required!
Powerful. Just like the Desktop
We've included all the features and trading analysis tools for the mobile platform as well
Any screen size
It adapts to any device and screen size, from standard-sized smartphones to phones with bigger screens (Phablets) and even tablets.
Capital Core Mobile Trading Platform
And we know for a fact that our customers prefer to have their trading platform at their convenient for them to be able to put orders anytime and from anywhere in order not to miss a profitable trade opportunity and that's why we've designed and developed the robust CapitalCore Mobile platform that gives you the opportunity to invest and earn on the go without pause!
 We've gathered all the necessary and even more than necessary features and tools in the platform we prepared for you for it to be useful and efficient for both our newcomer and professional traders, so all the traders can feel confident and comfortable trading with well-designed CapitalCore Mobile Platform. 
The platform is quite identical to the Web(Desktop) Terminal in terms of "functionality" which means we've included all the trading features, chart technical analysis tools and all other options available from the palm of your hand!
As we know It's not like before these days and different mobile devices have different operating systems that makes it a key for a trading platform to be compatible with all of them and no matter which one the customer is using but you still provide them with a solution as a broker. Thanks to our custom built mobile platform, because of its "web browser based" structure it will be adapted to any device the client may choose to trade with, not limited to Its operating system. 
The other considerable feature of CapitalCore trading platforms is "Full trades and history synchronization" between the mobile and desktop platform for you to keep track of your activities on the broker, exclusive of which platform you use at the time.